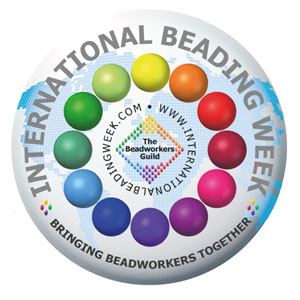 Saturday 24th July to Sunday 1st August 2021
The Beadworkers Guild have themed this year's event to celebrate the positive mental health impacts that beading has with the tagline: 'HANGING IN THERE' and with tassels as the main feature.
You do not have to be a member of The Beadworkers Guild to take part.
I have given you the link below, where you can find lots of information about events that may be happening and there are also lots of free patterns available. We do not feel ready yet to host an event and re-open The Beading Room for groups, but I will say more about our thoughts in my usual email at the beginning of August.
In the meantime, you may know that since I started my tassel journey in 2016 for National Beading Week (as it was then) there have been a few appearances of new patterns, not least my snowman and witches. Our range of thread colours has been growing too. You can see the full range here. Tassel Making
You can download my Introduction to beaded tassels here Download free guide
We have these special offers available for IBW and you are welcome to share these offers with friends and other beaders.
Offers are valid from Saturday 24th July to Sunday 1st August and will apply to online orders, telephone orders and personal shopping here at The Beading Room – just ring me on 01254 236049 to book your visit.
All orders over £20 (excluding postage) can receive a copy of my Making bead-embellished tassels Booklet 1, worth £6.95.
All orders over £40 can receive a copy of my Making bead-embellished tassels Booklet 1 & Booklet 2, worth £15.90.
To claim your free book/books please enter – I love tassels – in the Order Notes box at the bottom of the checkout page.
There will also be a 10% discount available on all items in the Tassel Making category of the website, including threads, tools, kits and materials packs. Tassel Making
Enter coupon code IBW21 at checkout.
Happy tasselling!