Plastic, and single-use plastic in particular, is a massive topic right now and I'm sure you will agree that when we buy beads we need to see them clearly and keep them safe. As your bead supplier, we have the option to buy beads in individual tubes, or in larger plastic bags that we re-package in smaller amounts for you. Tubes would be easier for us to handle and certainly have their place, but do make your beads more expensive. Since not everyone re-uses them anyway, we try and avoid them if we can.
Our use of packaging is always on our minds and we re-use any clean plastic bags, paper and boxes that we do get.
Our kits are the first recipients of a review, so here's what you will notice.
We know that you really need to see the design and beads clearly with kits, and if it's a gift – either for yourself or someone else – you want it to look exciting with a great visual impact. The self-seal bags that we use for our kits are really clear and now have the sealing strip on the bag instead of the flap. This is a small change really, but for me it's great step. You can keep reusing the bag without the risk of damaging the pattern and the tape will stay stickier for longer. Double-win!
Glossy card cannot always be recycled, so the cover sheet is now printed onto plain card instead, and as an extra bonus it uses less ink. Another double-win!
You all know what a needle and card of thread look like, so why use a plastic bag? All my new kits will have the needle and thread supplied in a small paper envelope that will be so much easier for you to recycle and I think it looks pretty as well. Is that another double-win!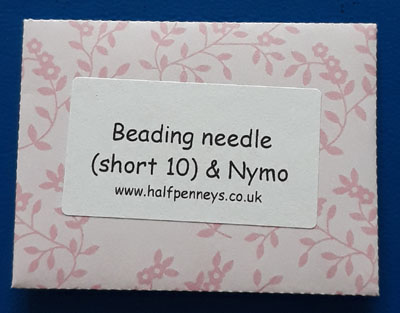 Next time you receive one of our kits, please look at the packaging. If it's one of the new style why not tell us what you think. You can email your comments to kathryn@halfpenney.co.uk.
We may never eradicate the use of plastic in our packaging, but we will do what we can. Our next review will be about the bubble wrap envelopes we use to post your orders to you and whether we move to using more PIP boxes instead. I'll keep you posted!
Happy beading,
Kathryn