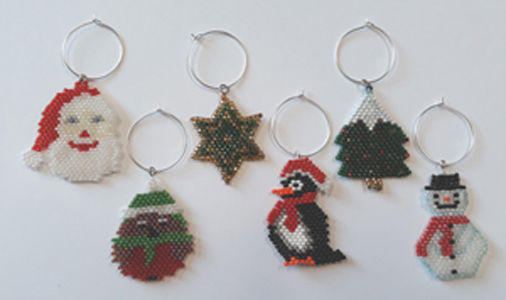 Just call me optimistic! I have just published 2 special bundles for you to make your own sets of wine glass charms. Even if we can't party as we would like, they make great gifts. Here's an idea – send completed charms to your friends and then toast each other over the internet on the big day.
Kits are available to buy individually for £5.95, and include materials to make 3 charms. The special bundle price is £29.75, saving you £5.95, and you get the pre-formed wires and closed jump rings in place of the usual hanging straps.
For the stash-busters amongst you, there are a couple of options.
If you are new to brick stitch, then you can buy the printed instructions for £15 (saving you £2.50). Either bundle will be a great introduction as they cover basic brick stitch and all the shaping you need. If you are experienced with brick stitch, then you can buy just the printed charts for £5 (saving you £1). Either way, you are getting 6 designs for the price of 5, AND each bundle comes with a free set of 6 pre-formed wires and 6 closed jump rings.
As I have not worked out a way to offer the wires and jump rings as downloads, these special bundles are only available for the printed copies!